Administrators can edit and customize all emails that are sent to the LMS users.
Visit Scheduled Emails in the left side tab.
Click the Templates sub-tab.
The screen below shows the Template tab. All standard email templates are listed here.
Click on any of the templates to edit it.
The screen shown below is the "Edit" screen.
Customize your email
When done, click on Save.
How to add email tags:
You can view the list of
email tags
by clicking the 'View Email Tags' link.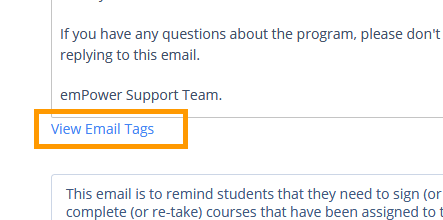 Click View Email Tags.
Copy the tag that you want to use, and close the window.
Paste the tag into your mail.
When done, click Save.
Test your email: To test your email, click the Test Mail button in the top right corner. A pop-up box will appear. Enter the email address(es) on which you want to receive the test email, and click Send Mail.