This is the recommended setting if you have a cloud-based spam filter in front of GSuite.
The setting may take up to an hour to propagate to all users, so wait at least an hour before testing. To ensure delivery, you will also need to whitelist emPower's IP address in your cloud-based spam filter.
Log in to https://admin.google.com. You should see a screen as shown below. This is your Google Admin console. 
Go to Apps.

Go to GSuite.

Go to Gmail.

Scroll to the bottom of the Gmail page and select Advanced Settings.

Click Content Compliance and edit the settings as per the following instructions:

Check Inbound under Email message to affect.
Add an expression to 'Add expressions that describe the content you want to search for in each email' with the following settings:
a. If ANY of the following match the message
b. Advance content match
c. Location: Full Headers
d. Match type: Contains text
e. Content: X-PHISHTEST
f. Click Save
If the above expressions match, do the following: Spam: Bypass spam filter for this message.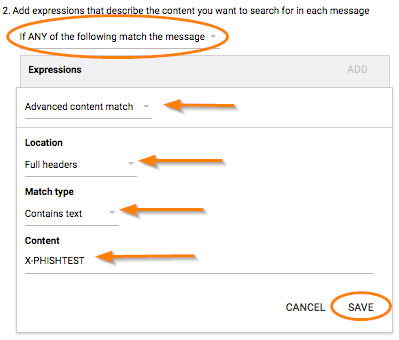 Your Final Content Compliance Setting Screen should look like this.