Administrators can generate printable single page compliance reports for individual users. These reports can include one or all of the following fields:
Assigned training courses
Assigned company policies
User's Activity log
Group assignments
Assigned Skills Checklists
Here is how you can generate a user report.
Visit the Users tab in the left side bar.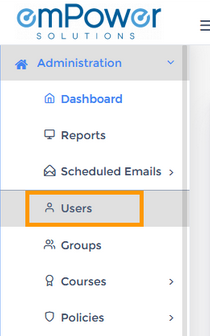 Search the user, and click the user name.
You would see the screen below. This is the Edit User tab.
Click the Actions drop-down in the top right corner and select User Report.
You would see the screen shown below. This is the User Report tab.
The first row lists the available report fields. You can select one or all of the fields.
Assigned Courses: Select it for generating the course report. Course report includes:
Course score meter.
Course status pie chart.
The list of assigned courses, course status, start/finish date, test score, and other details.

Assigned Policies: Select it for generating the policy report. The report lists the assigned policies, their status and the date of signature.
Activity Log: Select it for the users portal usage history. You can create a date filter for this report by selecting the Start/End date.
Group Assignments: Check this box for the list of Groups.
Assigned Skills Checklist: Check this box for survey or skills checklist report.
Once you have checked the boxes, click the Search button.
How to print the user report
Click the Print button on the right side of the Search button.